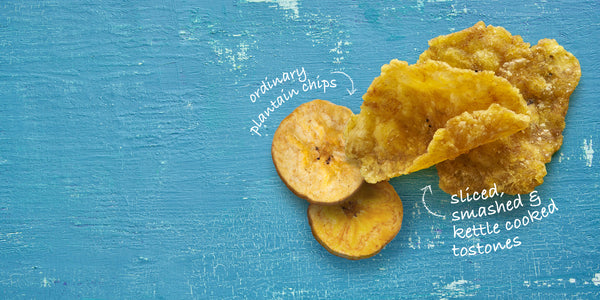 Sliced, Smashed & Kettle Cooked
We use an authentic, traditional recipe to create a more flavorful and more satisfying chip.
What are Tostones?
Tostones ("tow-stone-ayz")* are the chips plantain-growing families have created for their own crunching pleasure for generations. Unlike common plantain chips that are small and lack flavor, tostones are created with a special batching technique that creates a bigger, crunchier, tastier chip. 
Green plantains, fresh from the fields, are peeled, thickly sliced, cooked, smashed and then cooked again to crispy golden perfection.
These extra steps draw out a unique nutty flavor and elevate the humble plantain to a lighter, crispier, irresistibly salty and delicious next level.
*It is nearly impossible to eat just one, but if you do, it's called a toston ("tow-stone")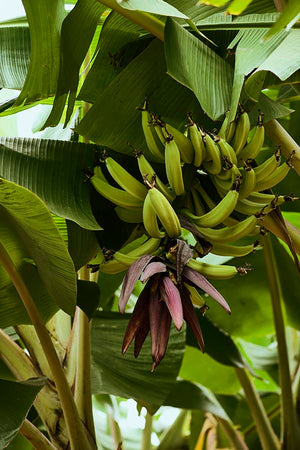 The Power of the Plantain
They're an important food staple for many of the world's populations.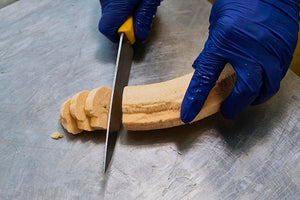 A Slice of Pre-Tostone Life
Every plantain is carefully peeled then cut to the precisely right width for the perfect cook/smash/cook outcome.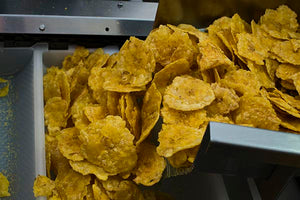 They Get Smashed
Smashing the sliced plantains adds that depth of flavor and crunch that regular plantain chips just don't deliver.
It's Tostones Time
Taste tostones with your favorite salsas, dips, and sandwiches. Serve them as a side, or crumble them on top of a dessert. Tostones elevate anything you serve them with.